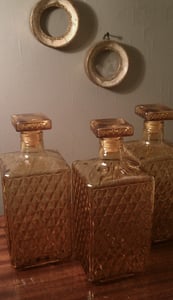 $

40.00
Nothing says class like decanted booze especially with this set of 3 square shaped amber decanters. One each for your whiskey, gin and brandy.
In absolute excellent condition, minimal scratching on the bottoms only, no chips or cracks. Rubber stops all perfectly intact.
Each bottle measures 3" x 3" wide/deep, by 5 1/2" tall for the well and 7 3/4" tall with stopper in place.
Woo your guests with your excellent taste in liquor and glassware.
International buyers please send a message for shipping quote.
Returns for any damage incurred during shipping must be made with in two weeks. Buyers are responsible for all shipping. Since all materials used at QUIET HOUSES come from second hand sources, please note it may take time to replace a rare or antique glass. If a glass can not be replaced a refund or store credit can be issued.
All items are shipped with insurance and delivery confirmation.
*QUIET HOUSES is based in Northampton MA, local buyers should send a message to arrange for alternate delivery options.
*Combined shipping is not an option for most items, especially glass items since they require so much care. If two items seem like they could be safely combined, send a message and it can be looked into.